standard Turks head rolling mill GZW250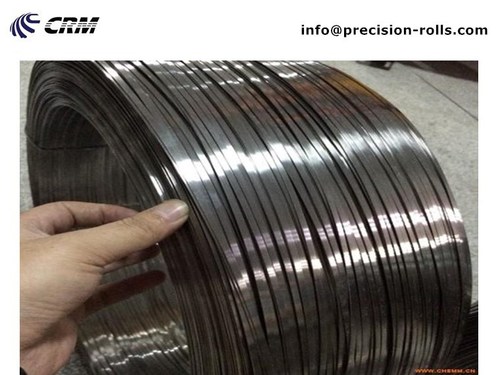 standard Turks head rolling mill GZW250
Price And Quantity
Product Specifications
Cold Rolling Mill

rolling from round wires into flat&shaped ss wire,carbon steel wire,alloy wire
Product Description
profile rolling machine,
Metal Wire Rolling Mill
CRM 4 Hi universal rolling Mill
standard turks head rolling millfor rolling high accuracy stainless steel and high carbon steel squarewires/profile rolling
The 4 Hi Universal rolling mill issuitable for rolling all kinds of flat or shaped wire, copper, Aluminum,stainless steel, carton steel, high speed steel, alloy wire.
Equipped with 4-roll rolling head
The maximum rolling force is 350KN,which can meet the requirements of wire rolling within dia.25MM
a roll diameter 180mm supportsquick roll change
Aviation-grade cemented carbiderolls, the highest precision of roll runout <0.001mm
Double servo drive rolling, linearspeed 150M-300M/MIN
Electric roll gap adjustment
160*80, 200*80, 260*100, 350*100,400*100 roller diameter

The finished products are suitablefor electromagnetic wire, petrochemical industry, paper making, screen,DFL, car, motorcycle, aviation, war industry and so on. Using the mostadvanced control system and monitoring system, tracking and automaticallyadjust the product quality and technical parameter. Take-up adopts precisionrewinding and winding system.

The parts of Machine

All the cold rolling machines fromour factory has advanced technology and strong practicability, especially theuniversal rolling mill adopts German technology, which is well received bycustomers. All parts on the equipment have been processed internally by ourcompany, which not only reduces the cost and ensures the quality, but alsoShortened delivery time

Technologies:
This technology remains theindustry Germany and Japan standard with its numerous precisions. Contact ustoday to ask our experts how we can optimize your wire rolling program.

About Company
Sky Bluer Environmental TechnologyCo. Ltd is manufacture specialized in high precision cold rolling mills andsystems for metal shaping, which mainly includes micro precision cold rollingmills, cassette roller dies, Turks head dies, Turk heads, wire flatteningmills, universal rolling mills, and precision rolling mill rollers for flat andshaped wires. We have independently R&D rectangular spring wire mill, flatwire rolling mill, volute spiral spring tandem rolling mill line, valve springrolling mill, and triangular wire rolling mill to replace brandEurope/USA/Japan cold rolling mills.
By the new method of Self-made coldrolling mill combined with drawing rolling die, our concept will be adjusted tothis new method it guarantees for the most cost-saving quality improvement ofyour products. better quality in evenness and finishing, the straightness up to0.5mm/m, thickness and width tolerance can be accurate down to within 0.005mm.Active introduction of Brand Japan small high-precision roll processing andgrinding technology, the roundness tolerance is less than 0.001mm., finishingis 0.02.
Service Commitment: What we provideis not only equipment, but also technology and service. We provide users withfree-of-charge for shaped wire proofing and hole design.


Contact us: www.precision-rolls.com [email protected] whatsapp:0086 13861313954

Trade Information
shanghai,China

10 Per Week
2 Months

Contact us for information regarding our sample policy