Profile Wire Rolling Mill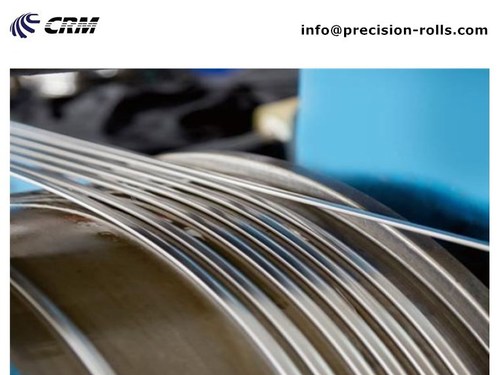 Profile Wire Rolling Mill
Price And Quantity
Piece/Pieces,

500 USD ($)
Product Description
Profile Wire Rolling Mill/stand profile rolling mill machine/Precision rolling machine/Turks head for rectangular and square profiles rolling
Profile Wire Rolling Machine/Universal Profile Wire Rolling Mill with high accuracy/Precision rolling mil
Brand:CRM
CRM Customized four-high universal rolling mill,precision profile wire rolling mill,full-time four-roller drive, micron-level feed; suitable for rolling materials: stainless steel wire , carbon steel wires, alloy steel and non-ferrous metals, etc.
Features of Profile Wire Rolling Mill
1. The complex section shape composed of four rollers can compress all components of the section at the same time, the deformation of the rolled piece is uniform, the speed difference around the section is small, and the internal stress of the rolled piece is small.
2. Rolls with smaller diameters can be used (because there is no need to slot on the rolls) to roll products with higher legs and wider waists, and the inner sides of the legs can be made without slope. This is difficult to achieve on an ordinary two-high rolling mill.
3. The reduction of the leg and waist of the rolling piece can be adjusted separately, which simplifies the adjustment of the rolling mill during rolling.
4. The rolling precision is high, the roll wear is less, and the energy consumption is reduced.
5.Metal Wire Turk Head Cold Rolling Machine for Making profile Wire
Four rolls in one plane. Universal head for rolling rectangular and square profiles with just one standard roll set, i.e. without changing rolls.
What is a CRM universal profile rolling mill?
The CRM universal profile rolling machine is composed of a pair of horizontal rolls and a pair of vertical rolls. The axes of the four rolls are in a plane. The horizontal rolls are the driving rolls and the vertical rolls are the driven rolls (some rolling mill vertical rolls can also be driven). Four sides can be processed on the rolled piece, and the two-high horizontal rolling mill is used as the auxiliary stand (edge rolling machine). Its English name is: Universal mill (special shaped wire rolling machine)for high accuracy flat and profile wire with high speedings.
www.precision-rolls.com
Contact us: www.precision-rolls.com [email protected] whatsapp:0086 13861313954