Flat Wire Rolling Machine China Brand CRM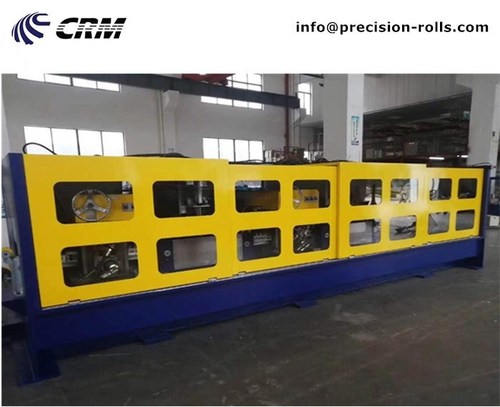 Flat Wire Rolling Machine China Brand CRM
Product Description
Having wideapplication in making low / high carbon, stainless steel wire, copper wire,special alloys. This machine is able to roll the round steel wires to flatwires in high speed with good quality.
Brand CRM designs a wide range of Precision wire rolling mills, available in differentsizes and different material, it can be integrated to the client Precisionflat and profile wire production lines.
CRM Roll headswithout drive in various designs. Production of flat and profile wire withsmall or medium cross section preferably from round wire and profile wires.Roll heads are suitable for ferrous and non-ferrous metals.
CRM Roll headsenable more economic and technically superior production compared to the use ofother production techniques such as drawing with a profiled die. Optimal wiresurface, lower tool wear and high degree of forming due to rolling contactbetween tool and wire. In special cases operation without lubrication ispossible (dry operation). Roll material is matched to wire material: Toolsteel, sintered metal or tungsten carbide.
Tension force isusually applied by drawing machines alternatively by belt caterpillars.Integration in existing drawing lines as replacement of drawing die boxeswithout complex line modifications.
Comprehensiveaccessory range: Wire guides, systems for roll force measurement, centrallubrication systems , precision wire transversing take-up machine,etc.
Contact us: www.precision-rolls.com [email protected] whatsapp:0086 13861313954

Trade Information
shanghai,China

Letter of Credit (L/C), Telegraphic Transfer (T/T)
Contact us for information regarding our sample policy

North America, Eastern Europe