cold rolled wire reducing machine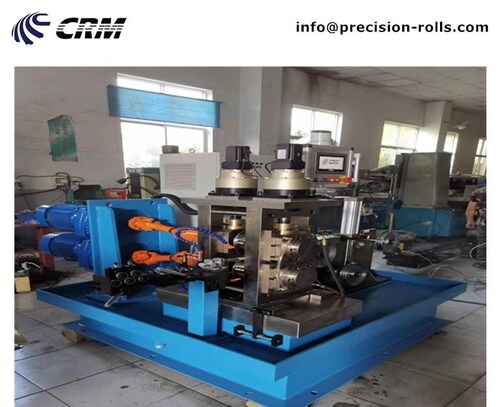 cold rolled wire reducing machine
Price And Quantity
Set/Sets

10.00 - 20.00 USD ($)
Product Specifications
Cold Rolling Mill

suitable for 316L Stainless Steel fale Wire,copper,MS,carbon steel,silver,Golden,stainless steel strips...
140 Watt (w)

140 Milliampere (mA)
Product Description
Profile Wire Rolling Machine
Brand: CRM
Product function: the function of stainless steel wedge wire in it is to wind and weld the filter barrel and filter screen with different gaps according to different requirements, filter the liquid, and the filter gap is 0.05mm at least.
Stainless Steel Profile Wire Rolling Mill
It is possible to perform high precision flat& profile rolling experiments from stainless steel round wires and profile wires, Generally, the rolling mill is used for research new projects and feasibility studies with different materials, like stainless steel wires, brass wires, and etc.
Hot tags: Precision wire rolling mill,Precision rolling mill,shaped wire rolling machine,Square wire rolling mill machine,Wire rolling mill,wire reducing rolling production line.wire reduction machine,China,Factory,supplier,price,manufacturer,wholesalers,
welcome to contact us for more information
whatsapp 0086 13861313954 [email protected] www.precision-rolls.com
What is metal special-shaped wire and bar?
In the industry of metal wires and bars, whenever the cross-section (shape) of metal materials is mentioned, it is mostly limited to circles or some simple shapes, such as quadrangle, hexagon and rectangle (straight angle). However, because zero The design of components tends to be more precise, lighter, smaller, and more finely processed. The shapes actually used in the industry have always been more complex graphics. These various special shapes The metal wires and rods of our company are born to meet special industrial applications, and we call them metal profiled wire rods and rods except for round shapes.
Metal wires and rods (also called solid profiled rods) mean that the cross-section (shape) of the wire rods and rods is precisely shaped according to the shape required by the user. Commonly used round base materials can be molded into various shapes, from simple quadrangle, rectangle and hexagon to extremely complex and asymmetrical shapes can be made according to customer needs.
Taiwan Linji uses a special cassette roller mold to shape the required metal material, and uses the plasticity of metal at room temperature to process. Our excellent machining results in precise shapes, smooth and clean surfaces, and consistent dimensions.
Why use profiled wire and bar as material?
In order to obtain the desired special shape, one traditional way is to cut the parent metal to achieve the desired shape. However, this method usually takes too long to repeat the process. Labor and material losses are also relatively high when producing more complex shapes. In addition, it is difficult to control the cleanliness and smoothness of the material surface and the dimensional precision in the form of cutting. As such, the use of metal profiled wires and bars is a good solution.
Advantages of using metal profiled wire and bar:
1. The customized shape can meet the actual needs of each customer.
2. It is suitable for all kinds of complex shapes that are too expensive for other processing methods.
3. Simplify the processing procedure.
4. Reduce material consumption and improve output efficiency.
5. Reduce production costs.
6. More precise shape and size (up to 0.01 mm).
7. The surface of the metal material is smooth, clean and bright.
welcome to contact us for more information
whatsapp 0086 13861313954 [email protected] www.precision-rolls.com
Trade Information
Shanghai,China

Letter of Credit (L/C), Telegraphic Transfer (T/T)
Contact us for information regarding our sample policy

ISO